YOU GET TO MAKE THE CHOICES!
Welcome to the Chapters: Interactive Stories Wiki
~ Decide on hard life choices such as falling in love, discovering secrets, and unravelling deep mysteries! Make your choices wisely; every ending is different! ~
Welcome to the Chapters: Interactive Stories Wiki - the fan-made wiki for the mobile game, Chapters: Interactive Stories. This is a mobile game designed, produced and released on Android and iOS devices by Crazy Maple Studio. Join us now in this ever expanding community and fan base as you immerse yourself in sensational stories! This Wiki was founded by Hillshadow.
About the Game
Choose your story from our top collection of romance, fantasy, sci-fi, young adult, comedy, and drama series! Chapters combines a unique style of choose your own story gameplay with fiction stories from our top authors that you simply can't put down!
YOU get to make the choices in each story. Decide on hard life choices such as falling in love, discovering secrets, or unravelling deep mysteries! Make your choices wisely; every ending is different!
Chapters Features:
Choose your story! Dive in and start making choices that affect the overall outcome!
Adventures start with you choosing your name and style to reflect your personality
All stories come with info directly from the author!
Our exclusive collection of choose YOUR story games include:
Hit Series by #1 New York Times & Wall Street Journal Bestselling author- Billionaire Next Door
Your new neighbor, Tag Crane, is always the life of the party. Traveling from one exotic locale to another is just part of running a luxurious hotel empire, after all. So what happens when he wants to take you with him? This Billionaire Next Door is ready to sweep you off your feet! Are you ready for the ride?
USA Today Bestseller PARANORMAL ROMANCE - HIT SERIES "VAMPIRE GIRL"
A deal with the devil sealed your fate long ago. Now, the seven Princes of Hell have come to collect!
Some of these devilishly handsome demons will try to charm you, and the others have darker deeds in store.
The fate of your mother's soul hangs in the balance – are you ready to rule the underworld?
CHOOSE your groom and let your reign begin!
DRAMA SUSPENSE LGBT - KIDNAPPING THE PRINCESS
Choose your life as a supermodel by day and a kidnapper extraordinaire by night.
Make the choice to play as the hero or villain who kidnaps the only heir to a whole country.
UNFORGETTABLE ROMANCE - THE BOY I HATE
To get to your BFF's wedding, you'll have to drive from sunny California all the way to New York City... with her totally off-limits and drop-dead gorgeous older brother!
Tristan is the guy every girl wants and every man wants to be... Can you resist his charms long enough to reach your destination?
Chapters Original Story: ROBIN HOOD
In our first, official Chapters Original story— a hero will rise. Giving a modern twist on a classic tale, become the vigilante of Sherwood Forest who steals from the rich and gives to the poor.
Join us in our first original tale of love and adventure, fantasy and romance. Chapters presents— ROBIN HOOD!
...PLUS more new stories COMING SOON! Stories updated every Monday, Tuesday, Wednesday, Thursday, Friday and Saturday.
Latest Releases
Monday,
August 15
Chapter 6-8


Planning the joint bachelor/bachelorette brings you and Luke even closer. Can you write about your growing relationship without revealing Luke's identity? READ MORE

Monday,
August 15
Chapter 12-14


What will happen between Cooper and you? READ MORE



Tuesday,
August 9
Chapter 12-14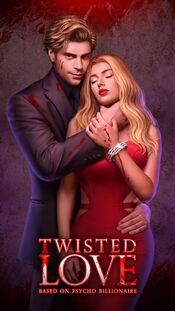 Jasper is over the moon about your situation, and he whisks you away on a babymoon. Beware: the darkness doesn't take vacations. READ MORE
Wednesday,
August 10
NEW Chapter 1-5


As an aspiring screenwriter, your life suddenly takes an unexpected turn after you're invited on a tabloid show. You try your best to look on the bright side, but that turns out to be not so easy after you meet a quirky young girl named Luna who intrigues you like no one before. Can this cat-and-mouse relationship have a future? READ MORE




Wednesday,
August 10
Chapter 15-17


Tensions rise between Dominick and Gabrielle. Can you calm things down before the two beasts take each other out?' READ MORE



Thursday,
August 11
Chapter 9-11


When Greg's attitude gives you conflicting feelings about how to carry on with Vaughn, you decide to have a "no men" slumber party with your friends. But when Vaughn crashes the night, you have to hide him from the others. Will you give him the attention he wants or leave him trapped in the closet? READ MORE

Thursday,
August 11
FINAL Chapter 18-20


You knew Ian's battlefield confession by heart. Everything changes when he tells you those weren't his real last words. Can you handle the truth? READ MORE



Friday,
August 5
Chapter 6-8


Your first lesson with Oliver may have been cut short, but he's already planning his next move. And this time, it's at your office. READ MORE

Friday,
July 22
TEMPORARILY STOPPED
NEW Chapter 1-5


The Golden Pack lived in harmony until one day, the hunters attacked. You, the only survivor, found a human family to live with. But will you keep pretending to be their pet forever, even now you're falling in love with your owner? Or will your secret be finally revealed? READ MORE






Saturday,
August 13
Chapter 9-11


You decide to spend the night with Ian. Will it exceed your every desire, or will it be a night to regret? READ MORE

Saturday,
August 13
Chapter 15-16


It's finally time for the mating ceremony. Will you have the will to defy your wicked stepmother and stand by the wolf you want? READ MORE



Sunday,
August 14
NEW Chapter 1-5


After moving to a new city, events out of your control force you and your daughter to stay with three sexy single dads: Mason, the sweetheart with a tragic past; Landon, the bad boy; and Eli, your domineering ice-king boss. But after a night of passion with all three of them, you find yourself pregnant. Which DILF is the father? READ MORE

Sunday,
August 14
FINAL Chapter 18-20


When Peter holds you at gunpoint, you're sure you're going to die. Will you and Rick make it out alive? READ MORE



?
?
NEW

Stella Pozza is not an ordinary mafia princess, but nothing is what it seems in the world of dark magic. As a renowned thief, Stella has seen it all— until she meets Roe, a mysterious and charming stranger at a club. But a seductive moment turns into something greater after Stella learns he's her next mark. Will she steal more from him than just his heart? READ MORE

If you see this, your JavaScript might be disabled or DiscordIntegrator plugin isn't working. If the latter, please contact a wiki administrator.
Like the game's official Facebook page to be the first notified of its new releases!